Recreation

The Ocala is a unique and fascinating forest that offers an accommodating climate for year round recreating. The mild winters are fine for family camping while a summer canoe trip down a palm-lined stream is a cool way to spend an August day. The temperatures for the dry months of November through February range from a daily average of 50 F to a high of 72 F. The summer season is much warmer and wetter. Short afternoon thundershowers often raise the humidity to about 90% while the temperatures range from 80 F to 95 F.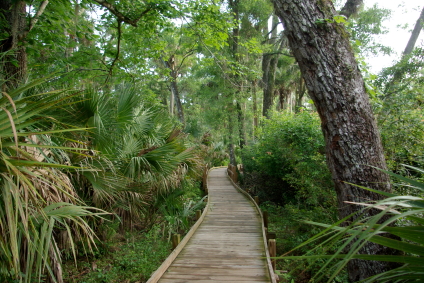 Notable recreation activities at the Ocala National Forest include:
Trails
The Ocala portion of the Florida National Scenic Trail traverses the forest north to south, winding through multiple ecosystems. Hikers can experience rolling hills in the open longleaf pine forest, vast prairies, wooden boardwalks through swamps, thick scrub oak, sand pine, and oak hammocks. The Trail meanders approximately 67 miles through the Ocala National Forest, making it an excellent choice for backpacking. Hikers may primitive camp while backpacking as long as campsites are at least 200 feet from the trail. Those who prefer not to rough it as much will encounter a spur trail to a developed campground about every 10 or 12 miles. These developed sites offer varying levels of facilities. Backpackers are not required to have a permit nor register with the ranger station prior to their outing, although filing a hiking plan with family and friends is highly recommended. Primitive camping in the general forest area is prohibited during the general gun deer hunting season. The only exception to this regulation allows primitive camping within the Juniper Prairie Wilderness, which is closed to all hunting.

Many shorter loop trails are available for hikers looking for a less arduous experience. The Salt Springs Trail, Lake Eaton Sinkhole and Lake Eaton Loop Trails are among these, while the St. Francis Trail provides 2 loops 3 and 8.5 miles long.
Bicycling
The Paisley Woods Bicycle Trail is a challenging 22 mile long ride through live oak domes, grassy prairies and stands of pines. Since the trail is in a figure eight shape, shorter loops can be made at the halfway point. Because this trail is not paved, bicycles need to be suited for rough terrain. Mountain bikes are ideal. There is no fee to ride the trail and there is free parking available at the trailhead at Clearwater Lake and the parking area of FR 538. Alexander Springs is located at the north end of the trail and Clearwater Lake is located at the south end. Water, showers and flush toilets are available at both locations, but please note there is a fee to use these facilities. Water is not available along the trail, so be sure to bring plenty of water. The trail is marked with yellow diamonds and arrows and posts at road crossings.
Boating
Recreational opportunities abound on the many water bodies of the Ocala National Forest as well as on land. Activities range from canoeing, boating, skiing, to use of personal watercraft. All visitors engaging in water sports should keep safety first and foremost. The Florida Fish and Wildlife Conservation Commission (FWC) regulates water vessels and should be consulted for safety requirements, registration and other regulations.

The Ocala National Forest's canoeing adventures are many, as it contains approximately 600 lakes and ponds, several streams and has 2 rivers along its boundary. There is no whitewater such as you would find in the mountains, but a variety of streams awaits your visit.

Canoeing/Kayaking
Each stream has its own characteristics that make it unlike any other. Some, like Alexander Spring Creek, begin broad with slow moving water and then become narrow and deep downstream. Others, like Juniper Creek, start scarcely wider than the canoe and end up more than a hundred feet wide.

You can usually cover 2.5 miles per hour in open streams, assuming you periodically stop to enjoy the scenery. In streams with obstructing logs you may only move about 1.5 miles per hour.

The streams are kept in their natural condition. You won't find roads running parallel alongside the stream. You may have to duck under low hanging tree branches or lift the canoe over partly submerged logs. The streams are left in these primitive conditions to provide a challenge and a sense of achievement, and to let visitors experience the quiet beauty of the unspoiled environment.

Be considerate of those who will canoe after you. Carry out all your trash so the stream will look natural. Please leave flowers, cypress knees, and shrubs for others to enjoy.

Canoe rentals are available from the concessionaire at Salt Springs Marina (352-685-2255), Juniper Springs (352-625-2808), Alexander Springs (352-669-3522), Silver Glen Springs (352-685-2799) and Clearwater Lake (352-669-0078) or you may bring canoes and paddle on your own. If you prefer, arrangements may be made with the concessionaire for rehaul service. Canoes need to be rented before 11am. Reservations are possible by calling each location, but canoes can also be rented on a "first-come, first-served basis".wss
Fishing and Hunting
The Ocala National Forest is a wildlife management area, in which hunting and fishing activities are managed by the Florida Fish and Wildlife Conservation Commission. A Wildlife Management Area Permit is required for all hunters (except those indicated as exempt) to hunt in this area. A Quota Hunt Permit may also be required during certain time periods or certain game. General hunting information may be found at Florida Fish and Wildlife Conservation Commission, or in the current Hunting Handbook available at the Florida Fish and Wildlife Conservation Commission Office, their various subagents, or the Forest Service Ranger Stations. For specific regulations that pertain only to the Ocala Wildlife Management Area a unique brochure is published annually and can be obtained at the same locations, including the website. This brochure identifies specific hunting units and regulations of the Ocala Wildlife Management Area.

Freshwater fishing is available in the many lakes, streams and ponds of the Ocala National Forest. The Florida Fish and Wildlife Conservation Commission also regulates fishing and produces a Fishing Handbook that outlines specific rules, bag limits, licensing, and health advisories. This handbook is available at the same locations as the Hunting Handbook. The Forest Service produced a specific fishing guide for the Ocala National Forest. This handy paperback book, entitled Fishing Opportunities in the Ocala National Forest, identifies 50 bodies of water within the Ocala and provides great detail for each one. These details include: recreation facilities available, ramp access, specific regulations, sport fishing opportunities, and lake description. Fishing Opportunities in the Ocala National Forest is sold at all three visitor centers.

Hunting and Fishing licenses and permits for residents and nonresidents are available at county tax collector's offices and their subagents, such as sporting goods stores or other retailers selling hunting and fishing equipment. For your convenience, you may use a major credit card and purchase your license over the phone: 1-888-HUNT-FLORIDA or 1-888-FISH-FLORIDA; or through the FWC website.

The Ocala Rifle Range was built with funds provided by the Pittman-Robertson Act to be used by the Florida Fish and Wildlife Conservation Commission's Hunter Education Program. This Act levies an excise tax on all sporting arms and ammunition, which is then used for wildlife restoration and hunter education. When classes are not scheduled, the range is available to the public. The facility is open from sunrise to sunset and is unsupervised, so cooperation among shooters is a must! While backboards are provided, they must be maintained and the range is usually closed on Wednesdays for repairs. Shooters should bring their own targets and tacks or staples, and those using the shotgun range should bring their own targets. There is no fee to use the range. The range is located within a wildlife management area boundary, so transporting firearms to and from the range is limited to state and county roads and prohibited on forest service roads.